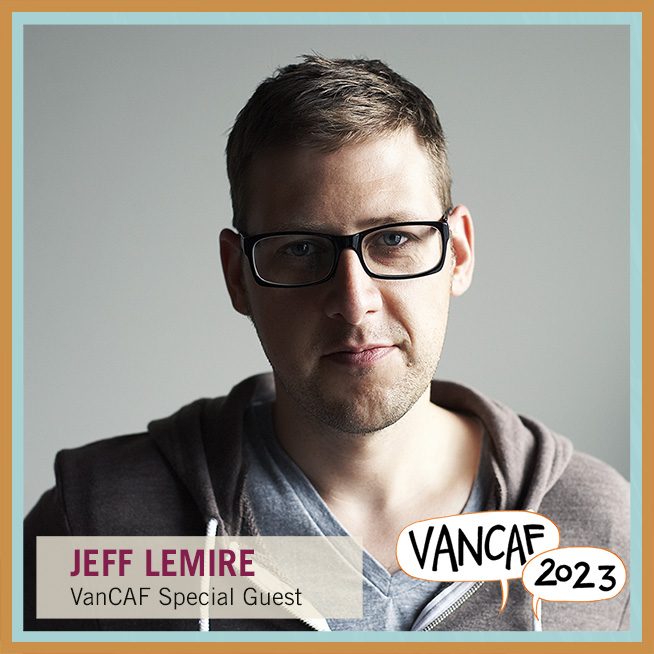 The Vancouver Comic Arts Festival is thrilled to welcome JEFF LEMIRE as our first special guest of the 2023 Festival!
"Jeff Lemire is the award winning, New York Times Bestselling author of such graphic novels as Sweet Tooth, Essex County, Underwater Welder and Mazebook as well as co-creator of Black Hammer, Gideon Falls, Descender, Little Monsters, The Bone Orchard, Phantom Road and many others. He has worked extensively for both Marvel and DC Comics including a celebrated run on Moon Knight which heavily inspired the 2022 Marvel television show. His graphic novels have been translated into dozens of languages, establishing him as one of the most prolific and acclaimed comic book creators of his generation.
Sweet Tooth has been adapted into a popular Netflix original series produced by Robert Downey Jr. and Essex County recently debuted as a 5-part prestige television miniseries starring Molly Parker, with Lemire both writing and showrunning the production. Many of his other books are also in active development for film and television.
Jeff has also collaborated with award winning musicians such as Eddie Vedder on his Matter of Time animated video and the late Gord Downie on Secret Path, an animated film and graphic novel.
Lemire lives in Toronto, Ontario."
We have been keeping a lid on this for a while and we're so glad to finally tell you!!