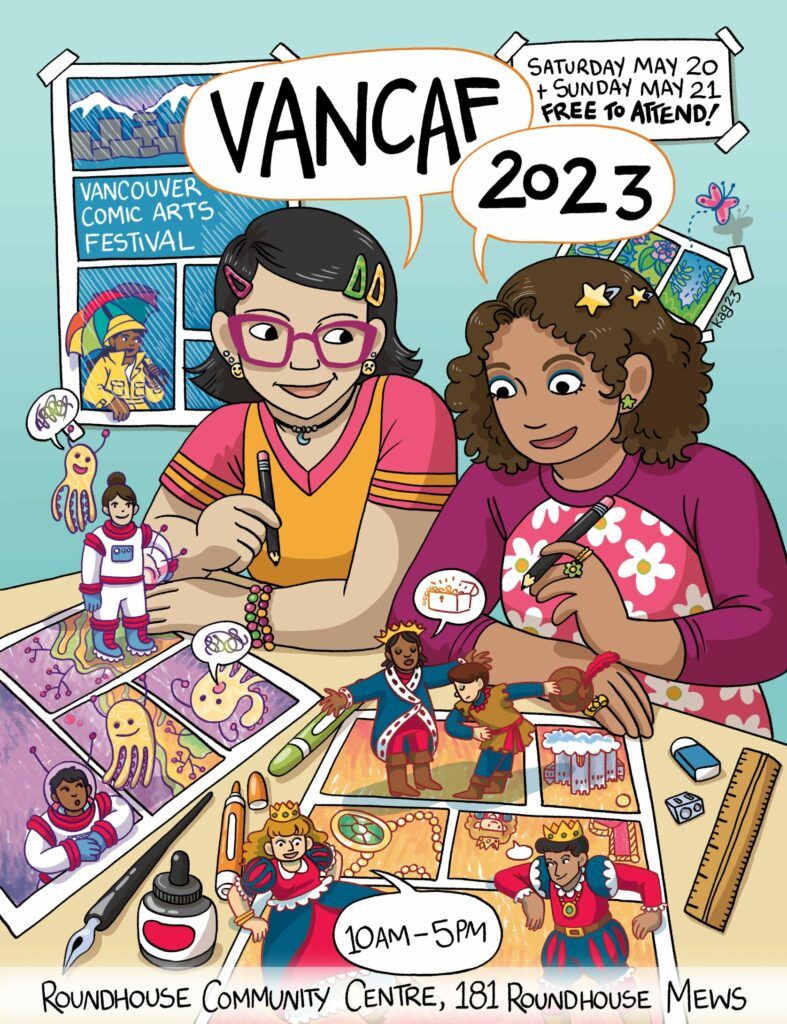 VanCAF 2024 (May 18th & 19th 2024) APPLICATIONS ARE OPEN!
The Vancouver Comic Arts Festival returns to the Roundhouse Community Arts & Recreation Centre May 18th and 19th 2024 and you can apply NOW to come and be a part! Just follow this link and fill in our submission form! Applications are open NOW until midnight on Sunday, November 26th, 2023! Be an earlybird and […]
VanCAF 2023 Special Guest signing times!
All signings take place at the CLLDF signing tables in the Exhibition Hall, F9 & F10. SATURDAY, MAY 20TH: JEFF LEMIRE: 11:00AM-1:00PM MIKE HOLMES:11:00AM-1:00PM DAN SANTAT: 12:30PM-2:30PM MEREDITH GRAN: 1:00PM-3:00PM HO CHE ANDERSON:2:00PM-4:00PM AISHA FRANZ: 3:00PM-5:00PM JUSTIN GRADIN: 3:30PM-5:00PM SUNDAY, MAY 21ST HO CHE ANDERSON:11:00AM-1:00PM MEREDITH GRAN:11:00AM-12:30:PM DAN SANTAT: 11:30AM-12:15PM MIKE HOLMES:12:30PM-2:00PM JEFF LEMIRE: 1:00PM-3:00PM […]
VanCAF 2023 Programming live!
Our schedule of programming for VanCAF 2023 is live!! Check out all the amazing stuff coming your way HERE: 2023 Panels & Performances
VanCAF Partners & Sponsors