MONDAY MAY 16TH: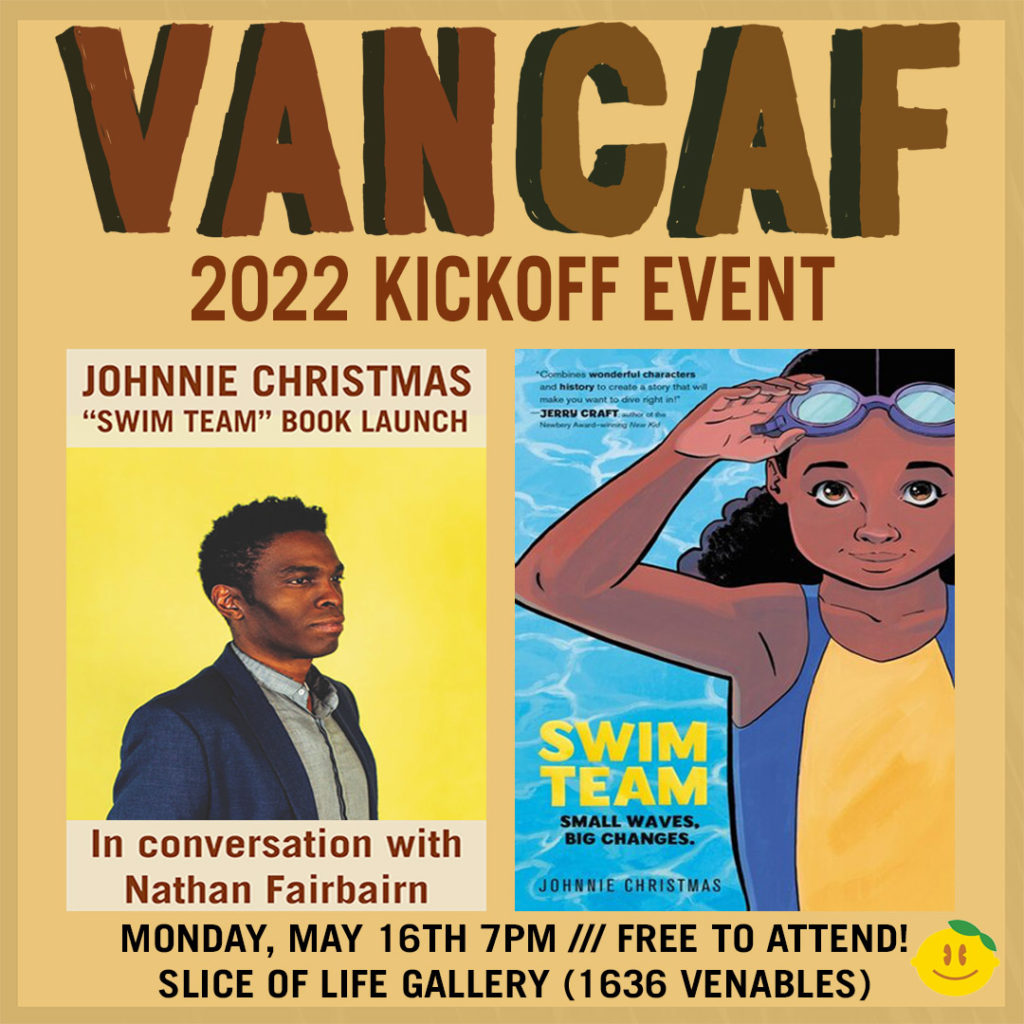 Johnnie Christmas "Swim Team" book launch at Slice of Life Gallery!
VanCAF 2022 kicks off our Festival this year with a special event presented at Slice of Life Gallery (1636 Venables St)!
On Monday, May 16th creator JOHNNIE CHRISTMAS joins us to celebrate the launch of his first middle-grade book SWIM TEAM, out May 17th from HarperAlley!
Johnnie will be in conversation with creator NATHAN FAIRBAIRN (Paws, Lake of Fire, Scott Pilgrim) to discuss his work, Swim Team and anything else they feel like talking about!
Event starts at 7PM and is FREE to attend!
TUESDAY, MAY 17TH: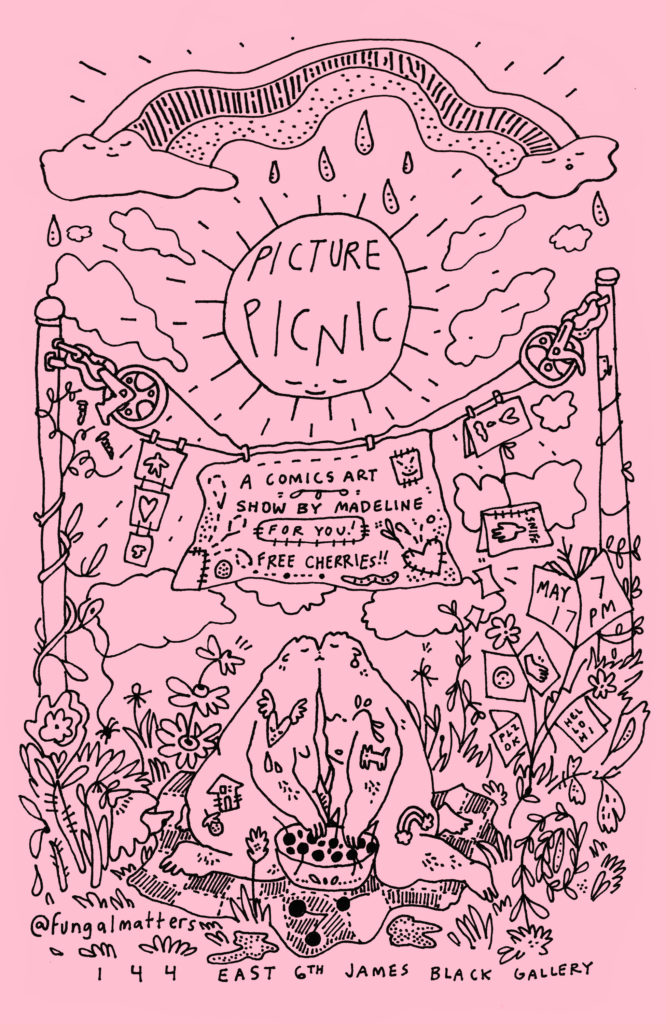 Madeline Berger PICTURE PICNIC Opening at James Black Gallery!
Picture picnic is a collection of comics and drawings about being gay and eating fruit. Come touch the plastic grass and stare directly into the fake felt sun. Summer is coming or maybe it's already here! Come see the show and celebrate its opening at James Black Gallery (144 East 6th).
A solo show by Madeline Berger (@fungalmatters)
Accessibility Info:
The JBG is located in a house from 1889 and is unfortunately not very physically accessible. Bathrooms are on the top (2nd) floor of the building. For more info on different entrance points, dimensions of space, and covid protocols please visit:
https://www.thejamesblack.gallery/faq
Drink, Draw & Lego at Slice of Life Gallery with artist Jason Turner!
From 5:00-8:00PM, Drink, Draw & Lego takes place at Slice of Life! Hosted in their lovely reception room at our Nextdoor location, come, enter and participate in a relaxed evening of lego building and art practice.
This is a great space to hang-out, catch up with friends and get a little drawing in.
This edition of the Drink, Draw & Lego will be hosted by artist JASON TURNER of the Vancouver Comic Jam! We have also set a (totally optional) theme: The Engine's Birthday. Wanna make some art about TRAINS? Well go for it, and we'll display it at The Roundhouse turntable Sunday afternoon to help mark the Engine's birthday!
Large tub of Lego and basic art supplies (A few sheets of paper, simple illustration materials) included with entry. Feel free to bring your own supplies to set yourself up for sketching. Drop-cloths available for anyone wanting to use ink or paints.
WEDNESDAY, MAY 18TH:

SCREENTONES DJ night at The Lido!
SCREENTONES happens at The Lido! DJs Justin Gradin, Dadjeans & VanCAF director Jarrett Evan Samson (plus guests!) spinning records all night long: gum, glam, punk, rock, pop, new wave, and everything in between! 9PM-late, no cover!
THURSDAY, MAY 19TH: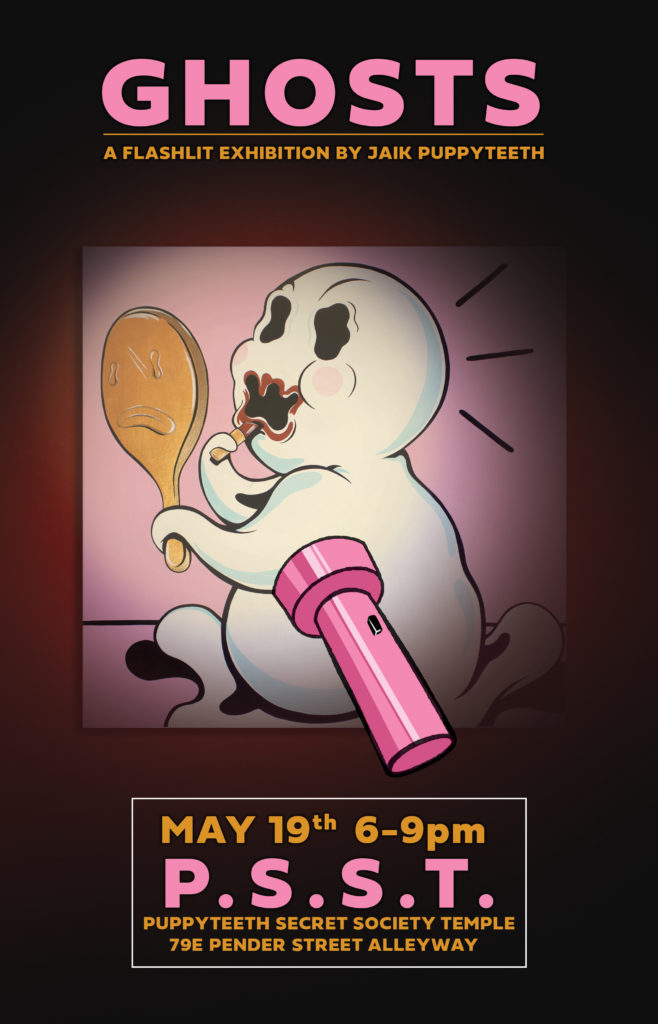 GHOSTS: A Flashlit Exhibition by Jaik Puppyteeth
Thursday, May 19th from 6-9PM VanCAF invites you to tour an exhibition of Jaik's new series of ghost paintings by flashlight at the mysterious and secluded P.S.S.T. (Puppyteeth Secret Society Temple). Follow the signs to enter through the alley at 79 E Pender!
*Please note that the P.S.S.T is not an accessible space and involves climbing a series of stairs to access.
FRIDAY, MAY 20TH: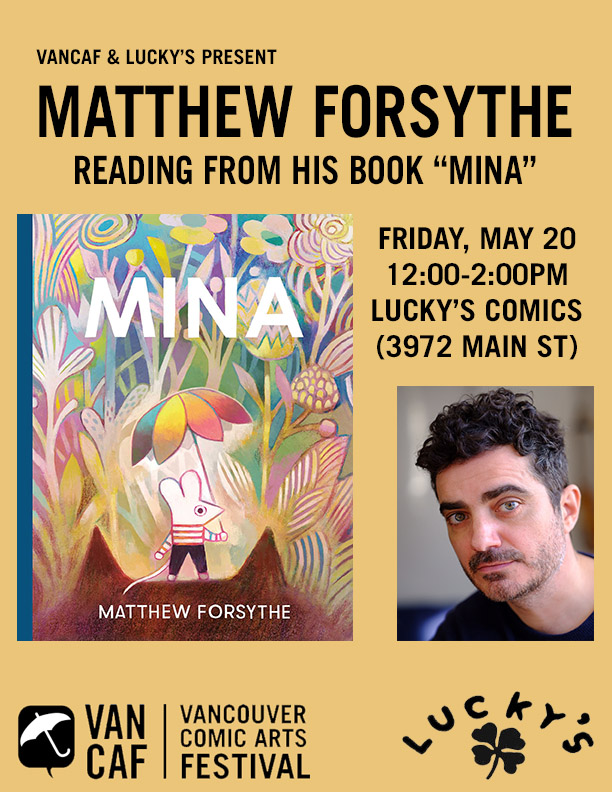 Matthew Forsythe Reading at Lucky's Comics
Friday afternoon from 12-2PM writer/illustrator MATTHEW FORSYTHE will be at Lucky's Comics reading from his new book MINA! This event is free and kid-friendly—heck, it's FOR kids! Come out on this pro-d day and have a great time for all!
SATURDAY, MAY 21:
Vancouver Comic Jam x VanCAF
Come on out to the first in-person comic jam in two years, the Special VANCAF 2022 Edition of the Vancouver Comic Jam! Hang out and draw collaborative comics with your fellow artists, from comics beginners to comics professionals. All are welcome!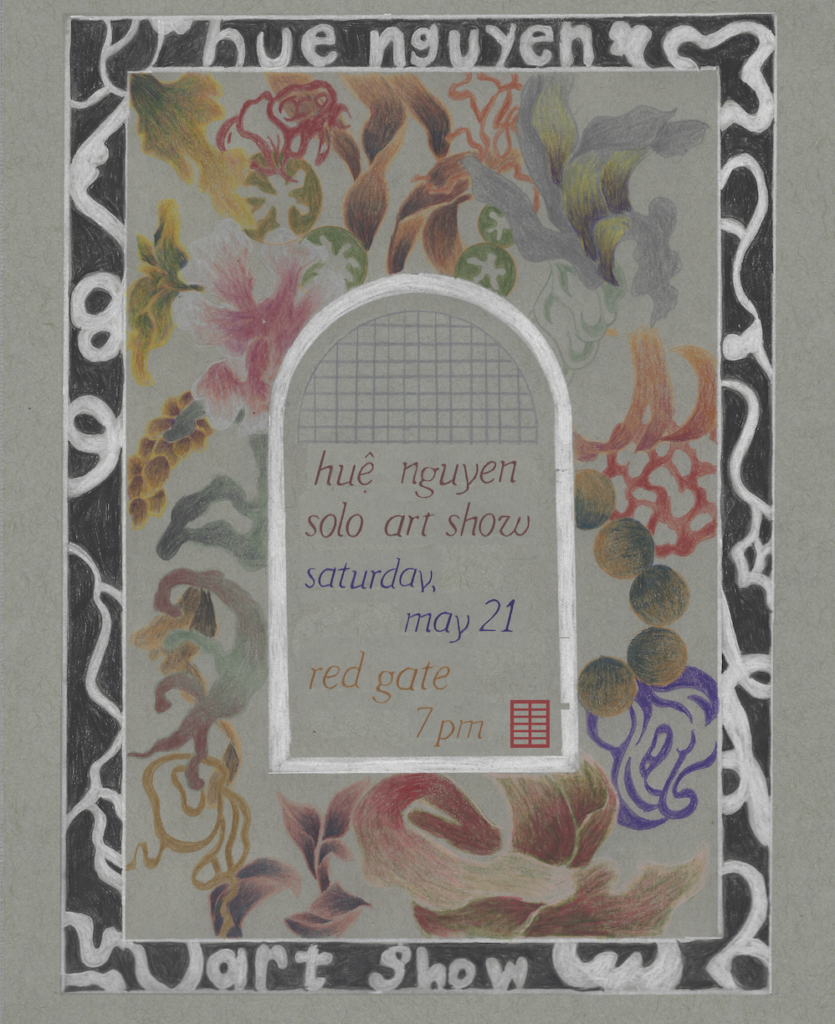 HUÊ NGUYEN SOLO ART SHOW @ RED GATE
At Red Gate starting at 7PM join us for Huê Nguyen's solo art show debut in the main space! Look at Hue's work, mix, mingle, have a drink, and enjoy!
"This series of drawings is informed by fugitive erotics, a concept coined by Amanda Wan. The term acts as a discourse, practice and aesthetic mode. In an academic sense fugitive erotics seeks to come to head with refugee epistolmologies: the pain, silence and loss witjhin these narratives. It invites us to understand the conditions that made pain, silence and loss necessary in the first place, but also avoids the re-pathologizing of the engagement. As a practice, fugitive erotics is a way to be able to feel the presence of pain, silence, and loss, but also learn how to build relationships through these elements without demanding a narrative that is legible.
For my drawings I have situated fugitive erotics within my own lived experience as a second-generation Vietnamese-Canadian. My parents are refugees from Vietnam and met in the refugee camps in Hong Kong before arriving to Canada. My parents are part of the Vietnamese Boat People narrative, and while I have only learned only parts of their experience on the boats, intergenerational trauma is heavily experienced by my sisters and I.
Through these drawings, I use abstraction as a form of fantasy to express pain, loss and silence, but are simultaneously paralleled with images of care and life. In creating these pieces, I sought to create a visual narrative that invite the viewer to reflect on the pain experienced by refugee stories that also ensure that these stories do not create a form of othering by the viewer. In fugitive erotics fantasy is used 'as an orienting affective texture.' I understand this as fantasy that becomes directed into an emotional materiality that has the capacity for communication, creativity, and care."
Then, immediately after beginning at 9pm…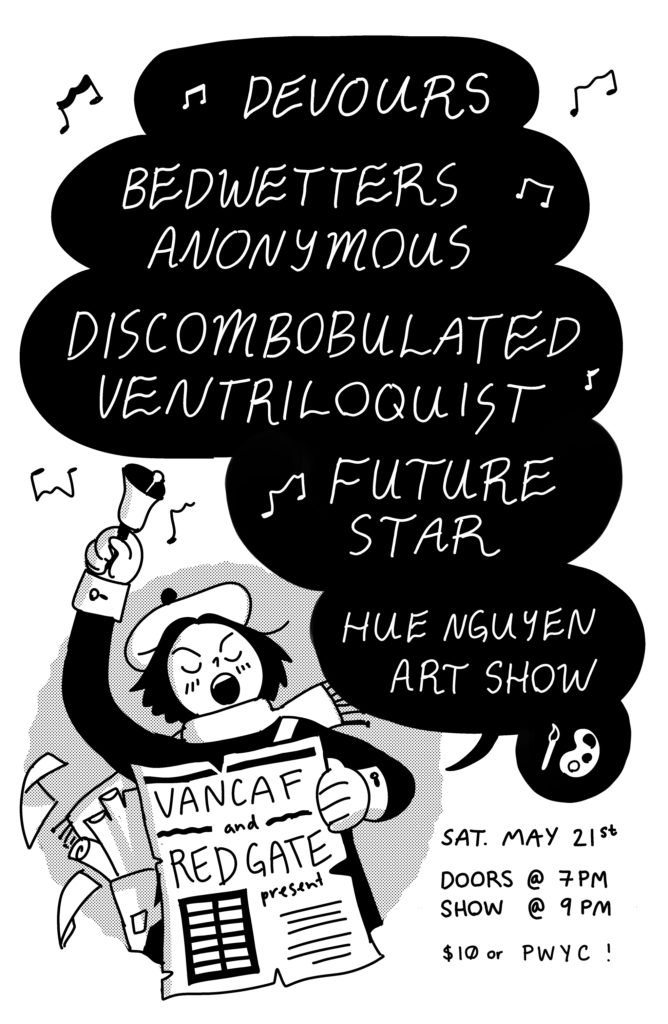 VanCAF Music @ Red Gate!
It's our VanCAF concert! Featuring:
DISCOMBOBULATED VENTRILOQUIST (Ron Rege Jr.!)
visuals by CHRIS STRICKLER
$10/PWYC with all $ going to Red Gate & the performers! (poster by Jade Armstrong!)